Helfen Sie ihnen, es zu wissen
Gemeinsam helfen wir der Welt, Jesus kennenzulernen
Jesus sagte
"Die Ernte ist groß, aber die Arbeiter sind wenige"
Es ist unsere Mission, Menschen zu helfen, die gute Nachricht von Jesus zu verbreiten
Für diejenigen, die glauben, dass ihre Geschichte nicht genug ist, helfen wir ihnen, es zu wissen
Diejenigen, die sich nicht sicher sind, wie sie das Gespräch beginnen sollen, helfen wir dabei
Für diejenigen, die die Geschichte von Jesus noch nicht kennen, gibt es eine Bewegung von Menschen, die helfen Jesus kennenzulernen
Gemeinsam helfen wir der Welt, Jesus kennenzulernen
Want to help people know Jesus?
Geschichten aus unserer Community
Seitdem ich einen Kommentar (unter einen Post) geschrieben habe, habe ich evangelisiert und mein Zeugnis weitergegeben! Die Menschen hören am ehesten zu, wenn sie das Gefühl haben, dass sie aufrichtig geliebt werden. Ich bin noch nie so an die Evangelisation herangegangen und ich sehe, dass es mir eine große Chance gibt, das wahre Evangelium zu verbreiten, ohne dass es so aussieht, als würde ich nur "ein Kästchen abhaken".

Instagram Korea
Ich habe einen Freund zu meiner Jugendgruppe eingeladen, und er hatte eine tolle Zeit! Danach habe ich mich mit ihm unterhalten und ein bisschen über das Christentum und die gute Nachricht des Evangeliums erzählt. Es war eine tolle Gelegenheit, Kontakt zu pflegen und meinen Glauben zu teilen.

Instagram ID
Hey, ich möchte nur sagen, wie dankbar ich für eure Podcasts bin. Es hat mir wirklich die Augen geöffnet, wie einfach es ist, das Evangelium weiterzugeben – macht weiter so!

Instagram UK
Eure Beiträge sind unglaublich hilfreich für mich und meine Familie. Ich bete, dass der Heilige Geist mich leitet und mir die Worte gibt, um Gottes Geschenk zu teilen, sobald der Zeitpunkt gekommen ist.

Instagram PH
Go deeper in your conversation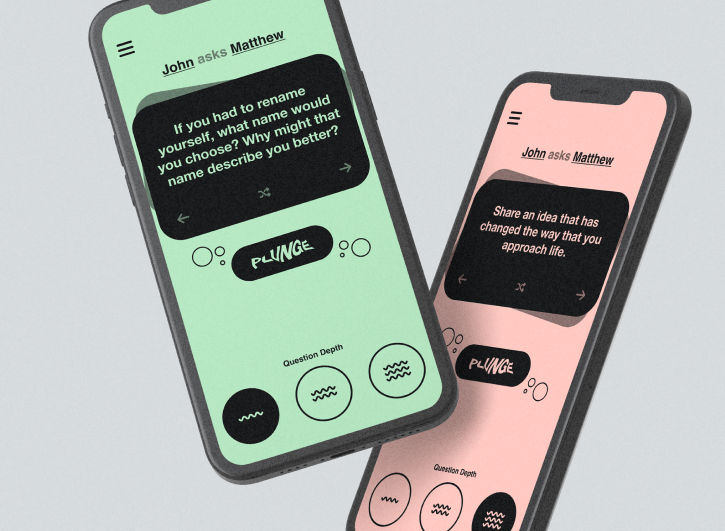 Let's Plunge
Discover "Let's Plunge"—a conversational card game that transforms small talk into conversations that matter. Navigating deep conversations and sharing Jesus with friends of differing worldviews can be hard. Let's Plunge fosters a safe space for friends to share deeper about who they are and what they value. Find it in the Toolkit.
Bleibe auf dem Laufenden. Abonniere unseren monatlichen Newsletter.