Para que sepan.
Juntos, estamos ayudando al mundo a conocer a Jesús
Jesús dijo
"La cosecha es mucha, pero los trabajadores son pocos"
Nuestra misión es ayudar a las personas a compartir las buenas nuevas de Jesús
Para quienes no creen que su historia con él es suficiente, los ayudamos a saber que sí lo es
A quienes no están seguros de cómo iniciar la conversación, los ayudamos para que sepan hacerlo
A quienes no han escuchado de Jesús, un movimiento de personas los está ayudando a conocerlo
Juntos, estamos ayudando al mundo a conocer a Jesús
¿Quieres ayudar a que las personas conozcan a Jesús?
Historias de nuestra comunidad
¡He estado evangelizando recientemente y compartiendo mi testimonio desde el momento en que les escribí! Las personas escuchan más cuando sienten que son realmente amadas. Nunca antes me había acercado a la evangelización de esa manera, y veo que me abre una gran puerta para difundir el verdadero evangelio sin parecer que solo estoy "marcando una casilla más".

Instagram Korea
Invité a un amigo a mi grupo de jóvenes ¡y la pasó genial! Después, me reuní con él y tuvimos una conversación amistosa sobre el cristianismo; compartí brevemente la buena noticia del evangelio con él. Fue una gran oportunidad para conectar y compartir mi fe.

Instagram Indonesia
Oye, me gustaría decirles lo agradecido que estoy por sus podcasts. Realmente me han abierto los ojos sobre lo fácil que puede ser compartir el evangelio, ¡sigan así!

Instagram Ukraine
Sus publicaciones son increíblemente útiles para mí y mi familia. Oro para que el Espíritu Santo me guíe y me dé las palabras para compartir el mensaje de salvación cuando llegue el momento.

Instagram Philippines
Profundiza en tu conversación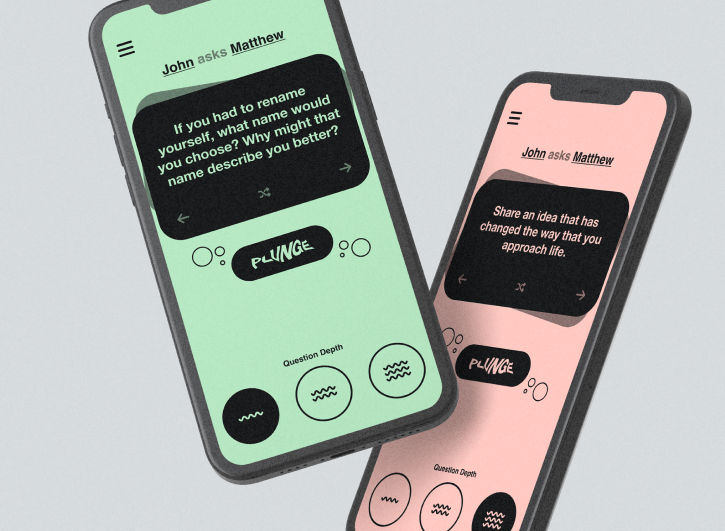 Let's Plunge
Discover "Let's Plunge"—a conversational card game that transforms small talk into conversations that matter. Navigating deep conversations and sharing Jesus with friends of differing worldviews can be hard. Let's Plunge fosters a safe space for friends to share deeper about who they are and what they value. Find it in the Toolkit.
Mantente informado. Suscríbete a nuestro boletín mensual.